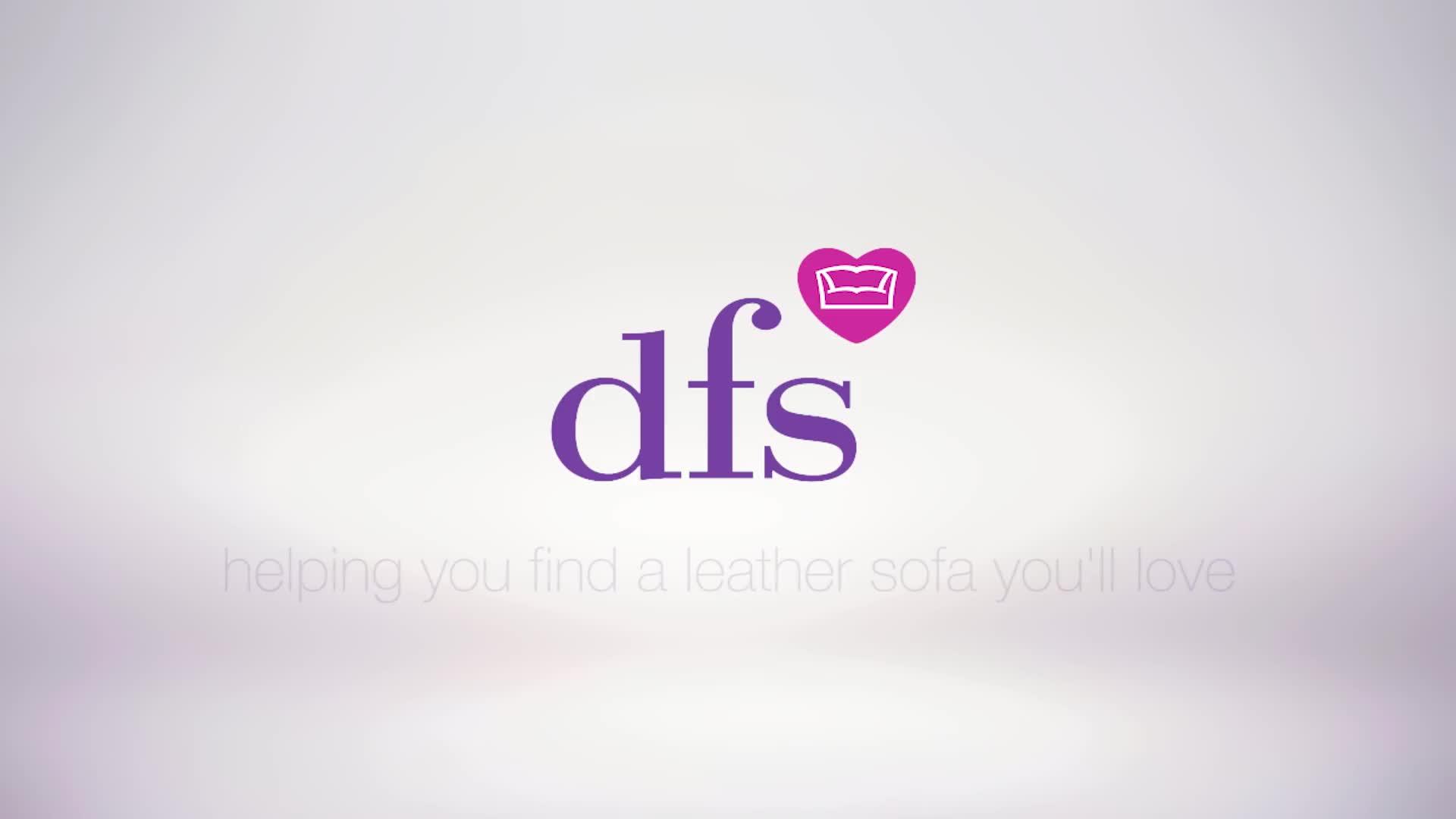 100% Real leather
At DFS we never compromise on our leather sofas. So, whenever you see this icon, it means 100% real leather, all over.
+
-
Natural leather
Choose 'natural finish' leather for a classic, traditional look. Designed with you in mind, our leather provides a lovely comforting warm, soft finish that as the natural tone and grain varies from piece to piece giving every sofa a slightly different feel. Take a clean, dry cloth and wipe your sofa down once a week to keep dust from building up.
+
-
Cherish leather
Choose 'cherish' leather for a sleek, modern look that's extra resilient. Our cherish leather has a sealed surface helping your sofa stand up to the everyday wear and tear that life throws at it. Dust with a soft dry white cloth and vacuum as required. Any spills should be quickly absorbed with a paper absorbent kitchen roll or tissue, then cleaned with our recommended DFS leather care kit. Don't use a damp cloth as this will absorb the moisture and cause the leather to dry out and possibly crack or peel.
+
-
Leather-look fabric
As well as our leathers, we also offer a leather look fabric for the luxury of leather at an affordable price.
+
-
Analine leather
Analine leather has a buttery, thick warm feel to it which showcases and preserves all of the characteristics bringing the leather to life. Lightly dust and vacuum on a regular basis.
+
-

The art of Luxury Leather
Introducing Haloluxe
Design classics suited to today's modern lifestyles feature beautiful and authentic hand-finished leathers. No pigments or grain correction techniques are used, only high quality leather selections finished by hand, creating an authentic natural beauty that only improves with age.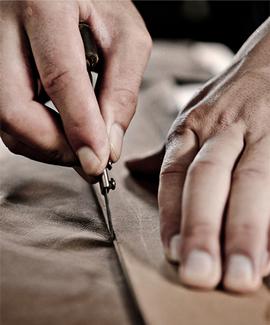 ---
Fillings, it's what's inside that counts
So, you love the comfort and beauty of leather, and are ready to pick your perfect sofa. A leather sofa is a family-friendly choice, making it durable and versatile, giving you lots of looks to choose from. So, whether you want something contemporary and chic or more relaxed and cosy; here's our experts guide to finding the right leather sofa that looks and feels right for you.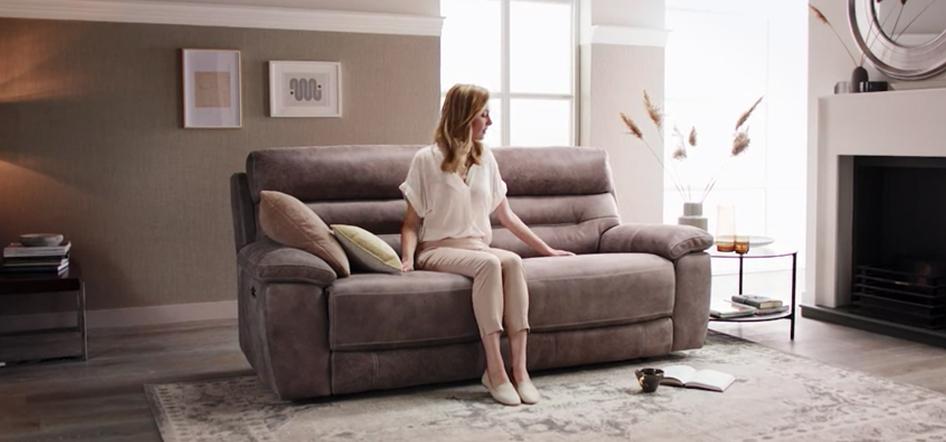 Foam - soft and supportive
Firmer foam filled cushions. Foam cushions helpfully spring back into shape the moment you stand up, they feel firmer than fibre and are ready to give you the same level of support next time you sit. Our tip: If you have loose seat cushions then just turn them over regularly to keep them in great shape.
+
Soft fibre - as soft as a big hug
Soft fibre filled cushions. If you like your sofa to feel like it's giving you a big hug at the end of the day, fibre could be your perfect match. Fibre gives a soft and relaxed feel that invites you to sit down and sink in. Our tip: Plumping and turning cushions every day will maintain the feather like feel.
+
-
Fibre encore - soft and supportive
Our exclusive fibre encore cushions. Family life means your sofa has to be different things at different times - a place to play, cuddle or chat. Fibre Encore's foam core in a fibre quilt wrap gives support for sitting up and softness for chilling out - and keeps its shape beautifully through the years. It's standard in our Country Living range. Our tip: Plump and turn your cushions regularly to keep them looking and feeling fabulous.
+
-
---
Looking after your leather sofa
Leather is a natural covering and will stretch and crease with use. Cushions will soften and relax their shape with regular use, making them even more comfortable, while everyday scratches and marks add character. If you take care of your leather sofa, it will reward you for years to come, growing more beautiful as time goes by.
Here's what you need to know to get the best out of your leather sofa.
Give your sofa a gentle weekly vacuum to remove any dust and debris. Make sure you use a soft attachment and a low setting to avoid any accidental damage.
Steer clear of cleaning products not made especially for leather. Even sturdy leather sofas can be sensitive to substances not made for them. That's why we offer special care kits to help you look after your leather sofa.
Direct sunlight can cause the colours to fade and cause your sofa to age before its time, so place your sofa in a shaded area to help keep maintain its look for longer