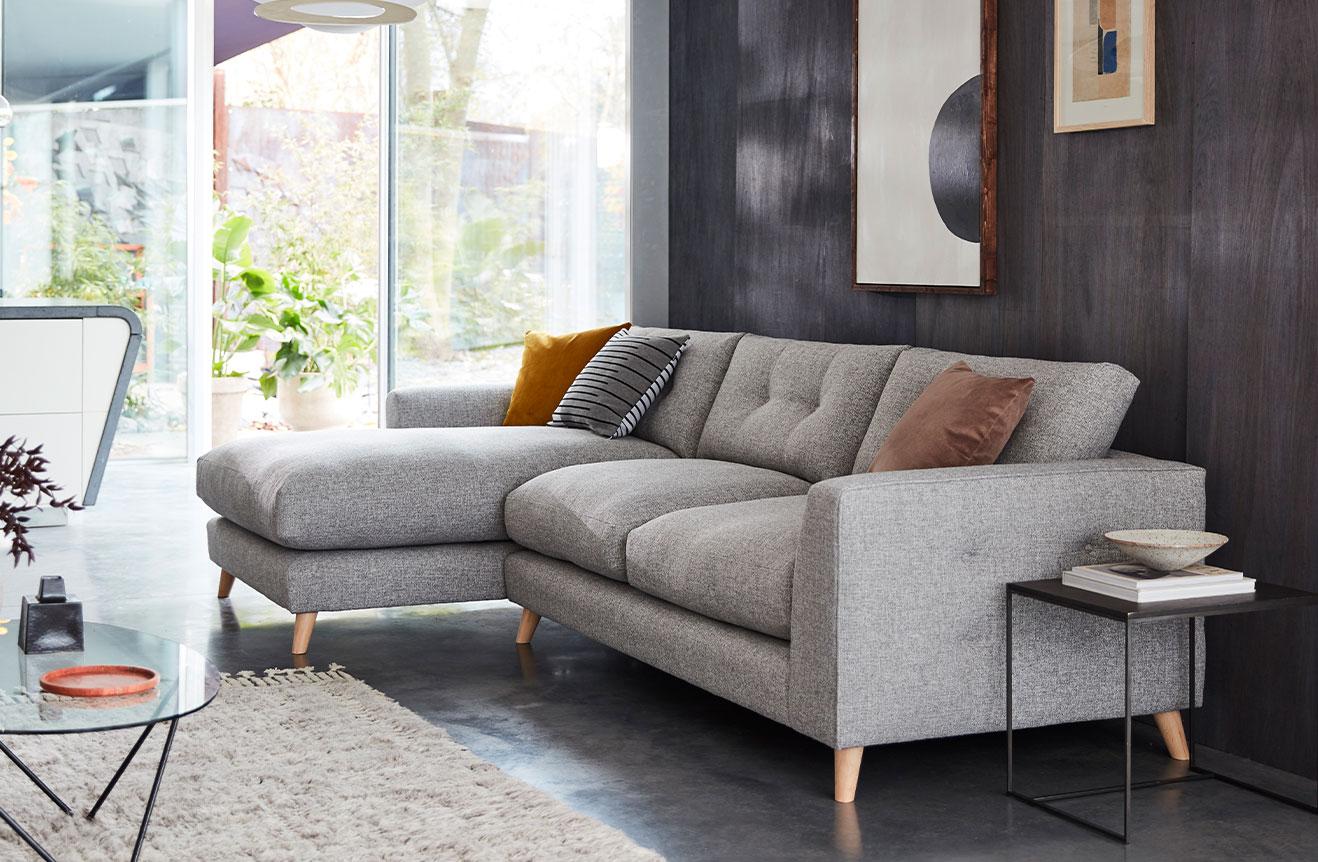 Mastering

monochrome
Explore grey living room ideas and inspiration for monochrome home décor. From feature walls to different living room styles, be inspired by DFS and our grey living room ideas.
Grey living rooms are arguably the most versatile of living room styles. Come rain or shine, winter or summer, grey is a colour that works all year round. Whether you want to achieve a contemporary living room style or stick with tradition, there is a shade of grey for everyone!
Grey living room ideas range in styles and can either create a calm aesthetic, or add depth to a room. The list of grey living room ideas are endless! Whilst barely-there greys, darker shades and almost blacks tend to be used in modern living rooms to create a dynamic feel; blue and green tones are the perfect match for a classic warm palette colour scheme.
Feature Wall
If you're not sure where to begin, a good starting place is to create a feature wall. Not only are feature walls a great way to bring your grey living room inspirations to life, they can enhance your colour scheme and highlight other accessories. Playing with contrasting colours can help add an additional element to when thinking of grey living room ideas. A light grey fabric sofa will help add texture to your living room, as well as gently contrasting against a grey feature wall.
If you want to bring out the depth of your space, pairing light grey furniture or accessories with a darker wall is the perfect combination.
A pop of colour
If you're looking for grey living room inspiration but love a splash of colour, look no further! Whilst playing with different shades of grey creates a modern ambience, grey also lets other colours shine.
Make a statement with colour and choose bright pigments like orange and yellow to accessorise your grey living room. These colours are playful and show a personal touch to your grey living room décor. Pair yellow cushions with a grey chic sofa and a wooden coffee table. Or, inject colour into your grey living room with an orange statement chair or a colourful Aztec rug.
For green and grey living room ideas, bring the outside in! Create your own tribal and botanical garden in your living room with pops of green and an array of house plants. Using soft tones of grey on the walls, combined with a white or cream leather sofa and dark green accessories, can make your living room come alive.
If you want to bring a light airy feel to your grey living room, pastels work well; especially if you want to achieve a calm and cool aesthetic. Light blue chairs look stylish with a grey throw, wooden furniture and light grey walls, creating a beachy vibe in the comfort of your living room. If you're after a warmer pastel look, play with shades of pink and warmer tones of grey.
Scandi
meets grey
Be inspired by global design trends and explore Scandinavian living room décor ideas. Scandinavian style combines minimalism with calm, hushed tones keeping things simple but ever so chic. Grey is the ultimate minimal shade, but in a Scandi-alternative living room, mix grey with warmer neutrals for a relaxed ambience.
To incorporate your own signature Scandi style in your grey living room, choose a neutral sofa and rug. Paint the walls a mid-tone grey and keep furniture light in colour, accessorising with darker tones and woods. Finish this grey living room look by dressing up your walls with black and white photographs or wall art, and a simple yet elegant floor lamp.
Monochrome is not as simple as black and white, but one of the trendiest living room décor ideas to date! Black and white bookend the greyscale, making them the ideal colours to complement a grey palette. While grey can be chic and stylish, paired with black and white can create the perfect modern living room style. For a striking modern look, paint the walls a mid-tone grey and leave the skirting boards and ceiling white. Use dangling jet black lights, or an arched floor lamp to highlight a textured grey sofa. Bring out the monochrome with black and white scatter cushions, and for an even more contemporary look, embrace patterns. Finish your grey living room look off with a dark grey throw to add layers to the room.
Don't forget about the floor in this modernist milieu! A textured, woollen rug or a patterned rug will bring out the variety of materials and layers in your grey living room. Remember, you don't need to decide on one shade of grey, you can choose them all by playing with textures, prints and tones.
Industrial
inspiration
For grey living room inspiration that is sure to wow, adopt the industrial interior trend which will give your living room a unique edge. With wooden floors and industrial lighting, combine your textured grey throw with a light grey fabric sofa or tan leather sofa paired with a dark grey scatter cushions for an effortlessly cool vibe.
Whether vintage or new, anything goes in this industrial interior! Think exposed brick walls and concrete brought together with infusions of grey!
---
Shop the trend
The beauty of grey living room inspiration is that there's something for everyone, no matter what the style! The versatility of grey makes it the perfect colour to work with when decorating – it is a timeless classic.