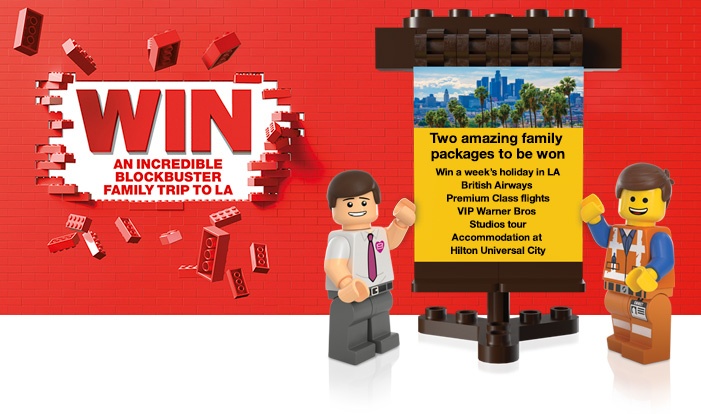 Terms & Conditions:
Promoter: DFS Furniture Co Ltd, Rockingham Way, Redhouse Interchange, Adwick-le-Street, Doncaster, DN6 7NA. Please do not send entries to this address.
Entry restrictions: This promotion is open to residents of the UK (England, Scotland, Wales and Northern Ireland), Isle of Man, Channel Islands and Republic of Ireland aged 18 or over excluding employees and the immediate families of DFS (the Promoter) and its associated, affiliated or subsidiary companies, its agents and anyone else professionally connected with the promotion.
Competition period: 00:01 18 December 2018 – 23:59 25 February 2019
Entry method: Participants can enter online at www.dfs.co.uk or in store.No purchase necessary. Entry limits: One entry per person only. There is no cash alternative to this prize. Prizes are not transferable and non-refundable. It is illegal to resell the inclusions of this prize.
Prize draw details: The draw will take place on 26 February 2019 and the Winner will be notified within 24 hours by telephone. The winner will be announced (first name and county only) on the DFS website from 5 March 2019. If a Winner who can accept the prize cannot be contacted after three (3) attempts within a seven(7) day period, they will forfeit their prize and it will be reallocated. This will be repeated until the prize is awarded. By entering this competition, competitors will be deemed to have accepted and agreed to be bound by the rules, and all entry instructions given are deemed to form part of the rules of the competition. The Promoter reserves the right to withdraw or amend any part of this promotion due to circumstances arising outside its reasonable control. The Promoter is not responsible for any third party acts or omissions.
Prize details: Two (2) trips for two (2) adults plus two (2) children to LA,between 29th July–4th August 2019 for six (6) nights to include:
Return Premium Class flights from Heathrow to LAX
Six (6) nights' accommodation at Hilton Universal City Hotel with daily breakfast, based on a family room (subject to availability)
A Warner Bros. Studio Tour Hollywood VIP pass for two (2) adults and two (2) children
Prizes do not include local (i.e. UK) airport transfers or transport in LA, tourist visas, passports, meals (unless otherwise stated), travel insurance, vaccinations or any other costs of a personal nature not stated, all of which will be the sole responsibility of Winners and guests.
The Winner should be at least 18 years old and UK residents on the day of booking the trip. All elements of the package are subject to Terms and Conditions of the package. Winners and guests must have a valid passport with at least 6 months' validity from the day they return to the UK after the trip, in order to secure their own tourist visa if necessary.
Selection of events and travel dates are at the Promoter's absolute discretion. Exact travel details will be confirmed by the Promoter. Travel must be taken at the stated dates/times, no alternatives available. The Winner must alert the Promoter about any accessibility needs of them, or their guest upon accepting their prize to allow for arrangements to be made.
Prizes must be booked via the travel agency nominated by the Promoter and once a booking has been confirmed, no changes are permitted. If a booking is cancelled, no alternative tickets will be issued. For the avoidance of doubt, no compensation and/or refund will be provided and the prizes cannot be converted to a cash alternative. Name changes to the flight seats once confirmed are not permitted. Winners must be eligible to fly on the dates of travel in order to claim their prize. Prize flights and hotels cannot be used in conjunction with any airline or hotel loyalty programmes, any other discount, discount coupon(s) or voucher(s), promotion(s) or special offer.
Prize flights are subject to the airline's standard terms and conditions. Frequent Flyer points cannot be accrued on the flight tickets. An upgrade cannot be purchased on these tickets with cash or Frequent Flyer points. Upgrades are also not available to be purchased in hotels. Once flight tickets have been issued, the Promoter shall not be liable for any failure to comply with its obligations caused by (but not limited to) weather conditions, fire, flood, strike, hurricane, industrial dispute, war, terrorist activity, hostilities, political unrest, riots, civil commotion, or any other circumstances beyond the control of the Promoter or Travel Companies.
The Promoter is not responsible for any third party acts or omissions.The Promoter is not responsible for elements of the prize, such as events that are outside of its direct control or influence and cannot be held responsible for cancellations or delays.
The Promoter accepts no responsibility for entries that are lost, delayed, misdirected or incomplete or cannot be delivered or entered for any technical or other reason. Winners and guests will be required to participate in reasonable publicity arising from the Promotion.. The Promoter will have the right to use photos, films, statements, comments, names and countries to copy, sublicense, transmit via any sort of digital or analogue media, publish, delete, distribute, reproduce, publicly display and perform, modify, adapt, edit, create works and otherwise use the contents of any statements, photos, films of the Winners (as well as the usage of the Winners' moral rights on the images, films) without any payment or permission to/of the Winners in whole or in part, either alone or in combination with other materials and content, in connection with the purposes of the Promotion. Promoter shall have all rights related to such photos, films, statements, and any information as mentioned above and their use for the period of 24 months after the prize has been won.
Save that nothing in these Terms and Conditions shall limit or exclude the Promoter's liability for death or personal injury caused by its negligence, or for fraud, the Promoter cannot accept any responsibility for any damage, loss, liabilities, injury, costs, expenses or claims suffered by entrants as a result of entering the Promotion or in connection with the prizes (including, without limitation, accepting or participating in the prizes).
The Promoter shall not be liable for any failure to comply with its obligations where the failure is caused by something outside its reasonable control or any other circumstances amounting to force majeure. The Promoter reserves the right to void any part of the prize(s) and demand compensation if Winners or guests do not act or behave with a spirit of this Promotion by breaking the law, consuming excessive amounts of alcohol, dressing indecently and inappropriately, taking drugs, making defamatoryremarks about any person, including but not limited to the Promoter, as determined in the sole discretion of the Promoter, and/or by using abusive or offensive language, statements and comments, and/or by endorsing any form of hate or hate group.
The Promoter cannot guarantee that the holiday and/or events will be free from disruptions, failings or cancellations. The Promoter is not liable for such disruptions, failings or cancellations unless caused by its negligence. Any requests for refunds or compensation arising from them should be sent to the operator. The Promoter can provide you with their details on request.
By taking part in this Promotion, all entrants will be deemed to have accepted and be bound by these Terms and Conditions as well as CoSport's Terms and Conditions (a copy of which is available at www.cosport.com). **There is no package provider**
The Promoter's decision in all matters is final and binding and no correspondence will be entered into.
© 2019 Warner Bros. Ent. All Rights Reserved. LEGO, the LEGO logo and the Minifigure are trademarks and/or copyrights of the LEGO Group. © 2019 The LEGO Group. All rights reserved.