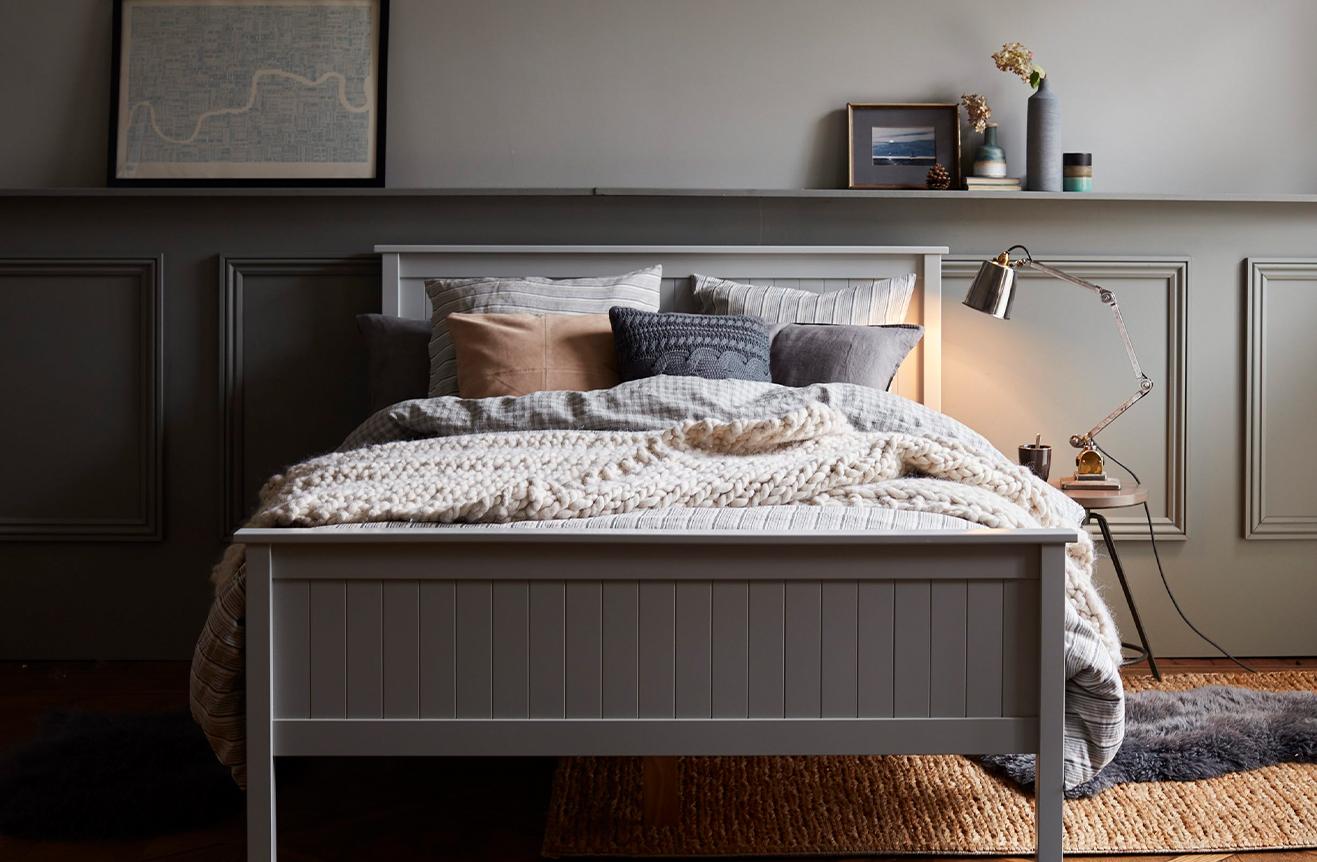 Tips for a stylish,
practical and
cosy bedroom
When it comes to your bedroom, this is the one room in your home that is truly yours. Create your own sleep sanctuary whether you're looking to relax, meditate, sleep, or come up with creative ideas; your bedroom is the perfect sanctuary. For this reason, it's vital that you enjoy spending time there. To get the most out of your bedroom decorating ideas for a stylish, practical and cosy bedroom, here our top tips.
White and bright
Comfort and aesthetic are important in a bedroom – but how do you do both at once? Incorporate white into your bedroom décor for a timeless and elegant look. Whether you add a white fluffy rug or a cream chunky knitted throw to inject sophistication and class, white accessories help make your room seem brighter; ideal for those darker winter nights.
Seasonal storage
When it comes to winter, we find ourselves faced with the task of putting away our summer shoes and clothes for a few months. If you plan on bundling it all into a cupboard, this idea is for you! A storage ottoman is a fantastic way to store unused clothes, sheets, shoes and other items that need to be put away. Not only do they a provide a practical solution, they can add a stylish flair to your décor. Choose a colourful pattern for a flash of colour, or layer a blanket and cushions to help double your stool as additional seating.
Other bedroom storage ideas include adding wooden shelves around your room to hold your cherished photo frames, art work, and ordained ornaments. You could also opt for a stylish wardrobe to match the décor of your room. If you decide to go with a wood finish, dark woods will make your bedroom look sophisticated, while lighter woods will make the room look brighter.
The bigger
the bedder
When it comes to cosy bedroom ideas, there's nothing better for a cosy night in than a warm, snuggly bed. For those who want to sleep in style, a white high-tog duvet will make your bedroom look heavenly. Or if you're looking to reflect warmth and cosiness, bedspreads in reds, greens, and golds are the perfect choice to create a cosy haven – perfect for hibernating in!
Pile your bed high with soft, squashy pillows or cushions to make a cosy space to hide away indoors from the cold winter weather.
Calming colours
It's a well-known fact that colours have a direct effect on our mood, memory and concentration. Many people feel low in winter due to a number of reasons, so, what better time to add a pop of colour to your bedroom walls. Before you begin, decide what mood you want to create in your bedroom. If you're looking to create a strong connection that is perfect for relaxation and peace, then blue and green works really well. However, if you're looking to improve your memory and focus yellow and orange are a great choice.
If you can't decide on one colour, an accent wall is a great way to make one wall stand out from the rest. You could even use patterned wallpaper to make the walls seem livelier.
Armchair chilling
A wonderful wintry activity is curling up on a cosy bedroom chair with a cup of hot tea and a favourite book. For some seasonal luxe, choose a rich material for your chair such as velvet; however, if you're looking for a subtle look, drape a soft faux fur throw over the back of your chair. You could even choose a matching footstool to prop your feet on while you kick back and relax.
If you're feeling fancy, a chaise lounge will make it even easier to relax in your bedroom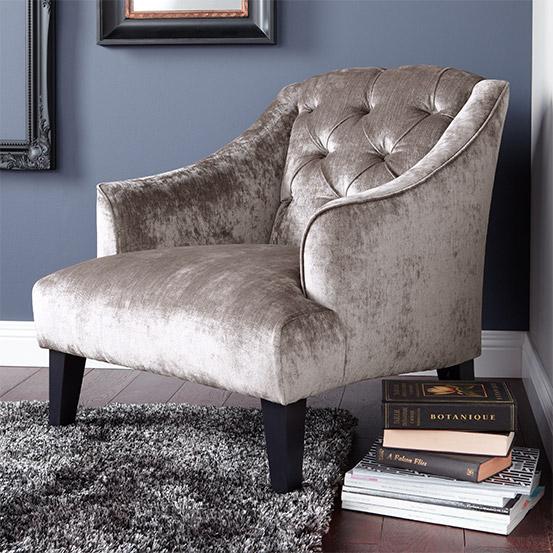 ---
Cosy candlelight
A real mood booster in the darker months is adding lighting to your décor. To create the ultimate cosy bedroom, warm yellow lighting can help create an intimate feel while avoiding white light can tend to make your room seem colder and darker. To help alleviate this problem, choosing lighting such as fairy lights, pendant lights and quirky desk lamps can help create the ultimate cosy den. However, if you want to add a romantic touch to your style, use tea light candles in little glass holders dotted around the bedroom to create a romantic glow.
If you're worried about naked flames, the use of electric lights in the shape of candles can help provide a comforting flickering glow without the added safety risks.
Scented candles are a great way to make your bedroom cosier. Try using different scents to suit your mood. For example, soothing lavender works well for a cosy night in.
---
Shop the trend