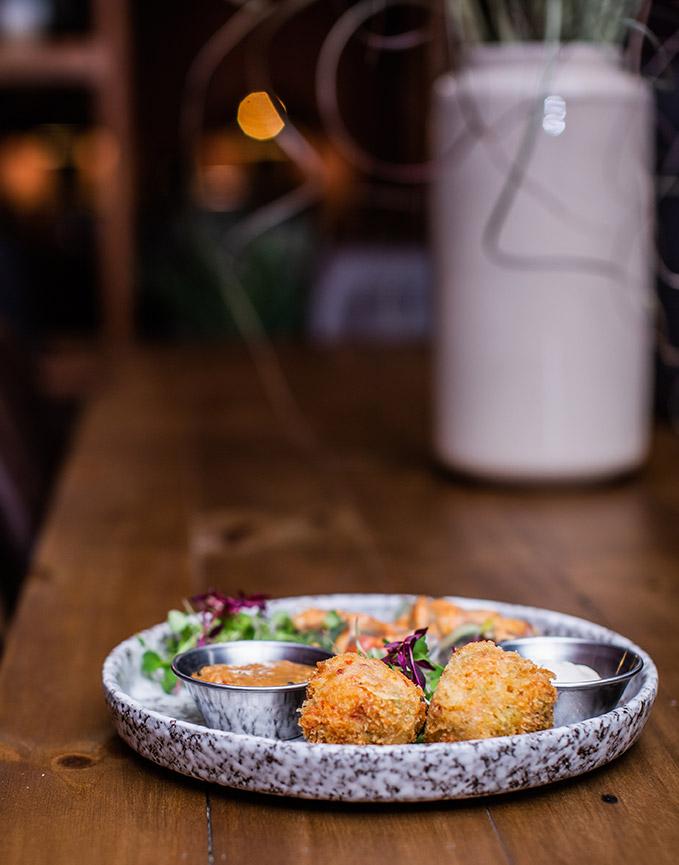 Lobster croquettes
Makes 10, please scale ingredients accordingly
Ingredients
300g cooked shelled lobster -chopped
1 tbsp unsalted butter
3 spring onions finely sliced
½ tsp garlic powder
¼ tsp cayenne pepper
¼ tsp smoked paprika
Small bunch flat leaf parsley
½ tsp salt
1 large egg
50g panko bread crumbs
Vegetable oil to deep fry
To Coat
2 eggs-beaten
150g panko bread crumbs
Lime mayonnaise
2 limes
2 eggs yolks
½ tsp Dijon mustard
10g chardonnay vinegar
400ml light olive oil
salt
To serve
As canape on sharing board or 4 per plate with piped mayonnaise.
Method
Sauté spring onions in butter in a frying pan over high heat until softened. Transfer to a large bowl. Add mustard, garlic powder, Pcayenne pepper, smoked paprika, salt, lobster, 1 egg, and 1/4 cup panko and stir until blended.
Form mixture into balls and set them on an oiled baking sheet. Whisk remaining egg with 2 tbsp. water on a small plate.
Put remaining 1/2 cup panko on another plate. Dip balls in egg, then roll in panko.
Heat vegetable oil to 350 degrees. Deep fry in batches, turning often, until medium brown, 4 minutes.
Transfer croquettes to paper towels.
Lime Mayonaise: Remove the zest from both of the limes and cut in half. Place cut-side down in a hot, dry pan until blackened.
Allow to cool.
---