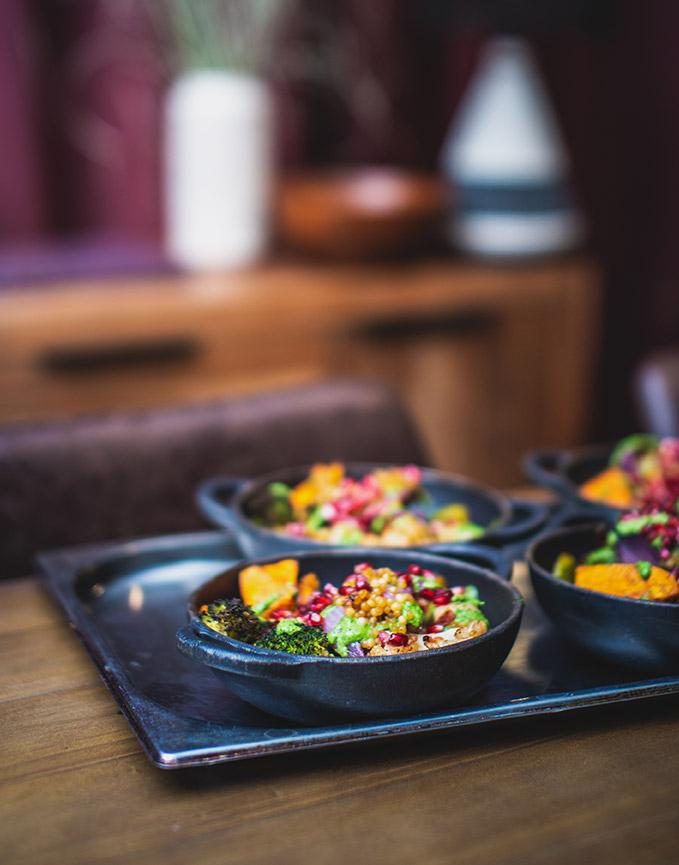 Winter Main
Winter Buddha bowl
Serves 4
Ingredients
1 large sweet potato
10 Brussel sprouts
150g giant couscous
Head of cauliflower
Head of broccoli
1 large avocado
One red onion
1 large pomegranate
Pumpkin seeds
Handful of micro greens
Bunch of parsley
Olive oil
Salt
Spice mix
2 tsp sumac spice
1 tsp. all spice
½ tsp. brown sugar
½ garlic powder
½ smoked paprika
½ tsp. cumin
Black pepper
Salt

Drizzle
2 tbsp Tahini
1 clove garlic
Bunch of parsley
50ml water
Juice of ½ lemon
Pinch of salt and pepper
Method
Combine spices to make the spice blend.
Par boil broccoli, cauliflower and sprouts. Place into oven dish and roast with some spice mix and seasoning.
Rub sweet potato with olive oil, salt and spice and roast until soft.
Slice onion and roast with sumac.
Take seeds out of pomegranate and slice advocado.
Blend all the drizzle ingredients to make sauce.
Season to taste.
Simmer couscous in a large pan of salted water until cooked.
Arrange ingredients into a bowl, try to keep each item separate. Sprinkle over pumpkin seeds, micro herbs and parsley.
Served in bowls
---