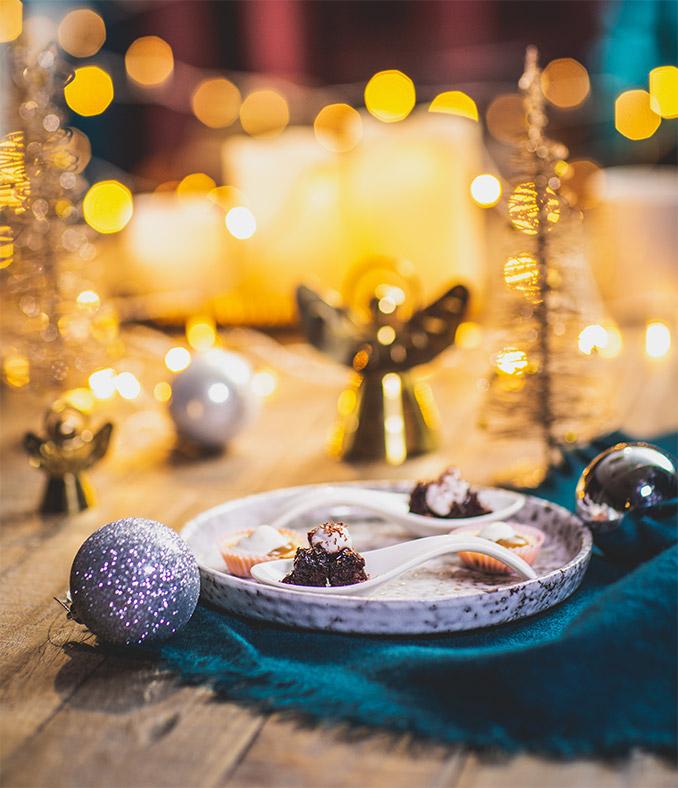 Dessert Canapé
Flavours of black forest
Makes 10 served on canape spoons

Ingredients
To make sponge
175g all-purpose GF Flour
1 tsp bicarb soda
Pinch of salt
50g cocoa powder
225g coconut sugar or light brown sugar
275ml hot water
60ml sunflower oil
2 tsp apple cider vinegar
Toppings
Jar of kirsch-soaked cherries in kirsch
Jar of black cherry jam
200g fresh black cherries
150g whipped coconut cream
grated dark chocolate DF
Method
Sponge: Combine all the dry ingredients in a large bowl.
Add hot water, sunflower oil and cider vinegar and mix until smooth.
Pour mixture into a lined baking tray- cook at 180 for 10-15 mins—allow to cool and cut into very small cubes for each spoon. Set aside.
To serve: Place 3 small cubes of sponge onto each spoon with a drizzle of kirsch onto each cube.
Pipe two dots of cherry jam amongst the sponge.
Add ½ fresh cherry and ½ Kirsch soaked cherry.
For the topping pipe on whipped coconut cream and grated chocolate to finish.
Served on individual canapé spoons.
---