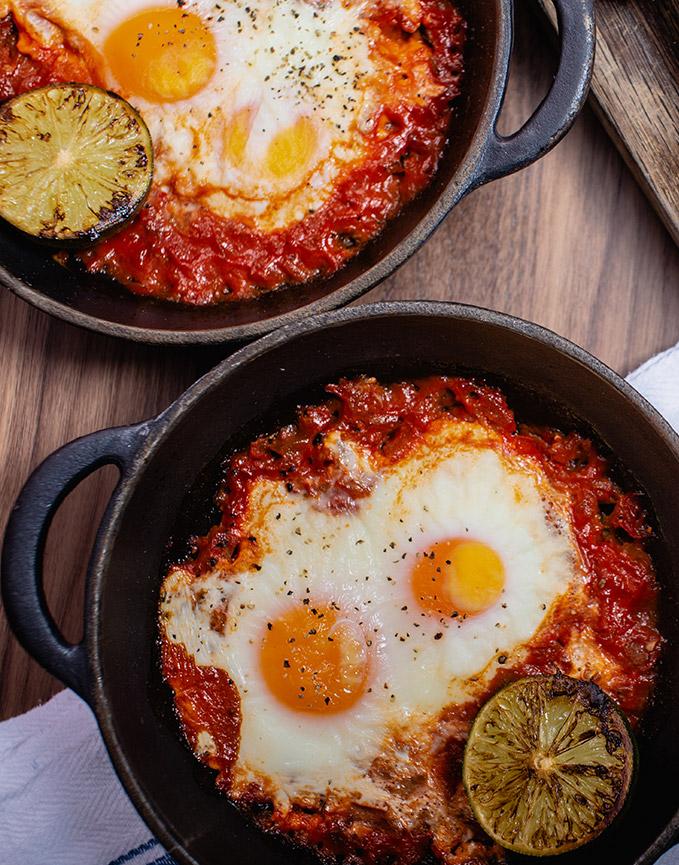 Brunch
Huevos Rancheros (spicy eggs)
Serves 4—please scale ingredients accordingly
Ingredients
8 free range eggs
Handful of fresh spinach
1 onion finely chopped
1 green pepper finely chopped
1 red pepper finely chopped
1 red chilli
1 clove of garlic
100ml of tomato passata or chopped tomatoes
Olive oil
1 tsp. Chipotle chilli power
Knob of butter
Salt and black pepper
Handful of fresh coriander
Corn tortillas-G.F or sour dough bread
Prep notes
Wash and chop spinach
Finely chop onion
Finely chop green and red pepper
Finely slice garlic
Equipment
Large lidded non-stick oven proof frying pan
per 4 people
To serve
Can be served as a table meal straight out of the pan onto plates or looks really nice served on a large colourful plate—think
Mexican street party.
Method
Sauté the onions in olive oil in a large pan on medium heat. Once the onions are translucent, add green peppers, red peppers, garlic clove, spinach, the tomatoes and their juices, chopped red chilies and Chipotle chili powder.
Add the eggs (3-4 minutes for runny eggs).
Bring to a simmer, reduce heat to low, and let simmer while you do the rest of the cooking, stirring occasionally. Reduce to warm after it has been simmering for 10 minutes. Add salt and black pepper.
---