Decorating small spaces:

Small bedroom ideas
If you're looking for small bedroom ideas, look no further. Explore our tried and tested bedroom ideas for small rooms and top tips for decorating small spaces.
When it comes to decorating small spaces and bedrooms, it's essential to create an atmosphere that allows you to unwind and relax as there are huge benefits to your health and overall mood. Even if you have a small canvas, creating a stylish and practical bedroom that meets your needs and maximises your space can make a world of difference to your home décor.
Minimalism
With hustle and chaos being commonplace in today's world, creating a sense of serenity and an impression of openness is exactly what your bedroom needs. Minimalism does wonders when considering bedroom ideas for small rooms.
Limiting the furniture in your room to the essentials is a good starting point for tackling minimalism while decorating small spaces. Establishing your bed as your room's focal point is an easy way to get this effect. Keep in mind that even as a focal point, the bed in your minimalist room should remain stripped of unnecessary additions to obtain a sleek and contemporary look. A simple way to make sure that your look is clean and effortless, opt for a simple yet stylish bed frame which doesn't take up too many inches of your already restricted space.
Stripes, Polka Dots, Fleur-de-lis…
While minimalism is all about simple and stripped back, it does not equal boring. A great way to incorporate some expressive yet subtle detail into your small bedroom is through texture and pattern. A small room can utilise texture in the same way that a large room can, bringing depth and sophistication to your home décor.
Whether you decide to incorporate texture through styling your bed or add flair to your sofa, adding various styles to your autumn home décor has many benefits.
Be bold!
Being bold in your décor is the ultimate determiner of your personality and style. Despite the stereotype of all white as a minimalist colour, adding bold and vibrant colours can help complement a minimalist bedroom decor. With so many paint options to choose from, consider using wall paper to create a feature wall that gives your bedroom a personal touch. This can extend to interior design ideas for a small house, assisting in a different attitude for every room.
If you're looking for small bedroom ideas to make your bright and bold concept come to life , consider incorporating your favourite colour by matching accessories, bed décor, and curtains.
Or keep it light and bright with white! Not only can the colour white magically expand a small space, it can help brighten up a room which may lack large windows or natural lighting.
If you don't want to change your colour palette, a small bedroom idea to create space is to choose furniture which is multi-functional. While your bed is most likely to be the largest furniture piece in your room, opt for one which has space underneath it. This helps create room for storage boxes for your out-of-season wardrobe. Another example of a multi-functional furniture piece that gives your room style while adding value is a sofabed. Whether it's for a studio apartment to help create floor space for daytime activities, or as a guest room alternative, adding a sofa bed into your small bedroom decor is a great choice.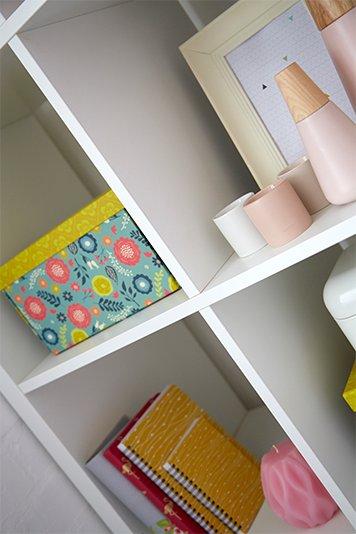 Faking Spaces
There are other ways to create the illusion of a larger room when decorating small spaces. While trying to keep it bright, consider adding mirrors opposite windows to double the natural light flooding into your room. Having a breezy and airy room ensures an influx of positivity when starting and ending your day. An easy way to do this is by choosing mirrored cupboard doors which combine illusionary and practicality techniques. If you are lacking in windows, mirrors are still a great option for decorating small spaces because they can visually expand a room.
If this is the case for you, also consider adding lights to brighten up your room. This could be with fairy lights, floor lamps, or candles. Not only does this work for interior designs in a small home, it provides a practical way of creating a warm and airy element to your space.
Floating furniture
Having a small bedroom does not mean that you should go without certain pieces of furniture. When thinking of small bedroom ideas, try to includes staple pieces of furniture that don't clutter and bulk out your space. Interior design pieces which are transparent and contemporary provides your space a tidy, practical and visually pleasing look which adds an added benefit to your overall home décor.
Another option is adding storage to your wall or above your bed. Not only does this help maximise on space, but it highlights any space into a statement wall. Consider including floating shelves such as bookshelves to store items such as frames, plants and other smaller items, or a floating desk; both innovative interior design ideas for small spaces.
---
Shop the look
Whatever you decide when brain storming bedroom ideas for small rooms, think practically, functionally, and deceptively! Remember that having a small bedroom does not mean you should be afraid to decorate it in a way which represents you. Whether that be by minimalist styling, being bold or incorporating patterns, decorating small spaces will be an exciting yet challenging project!