How to inject 1920's style in to the home
By Pippa Jameson: Interior Stylist and Consultant
---
The 1920's and 30's saw a huge boom in the world of interiors. For the middle classes, mortgages became affordable and the desire for large spacious suburban homes was growing.
People wanted clean, light and simple rooms filled with stylish homeware, now known as the Art Deco era. This glamorous decade has been enjoying a huge renaissance, not only with interiors but with fashion, film and television dramas. 1920's furniture and accessories have become very collectible and you can understand why! The signature and iconic patterns are diamonds, triangles and strong chevrons, most of which were influences from the architecture of the time. Probably most recognisable is the elegant fan shape.
How to create the look
---
Personally, I always believe that less is more
Far better to be 'influenced' by this decade, using subtle but key 'art deco' touches and combine them with current pieces, rather than trying to recreate an exact replica of a 1920's living room. My stylist's tips would be to choose items that have a strong visual impact, as well as beauty. This can be achieved by using original pieces or simply modern adaptions of the classics.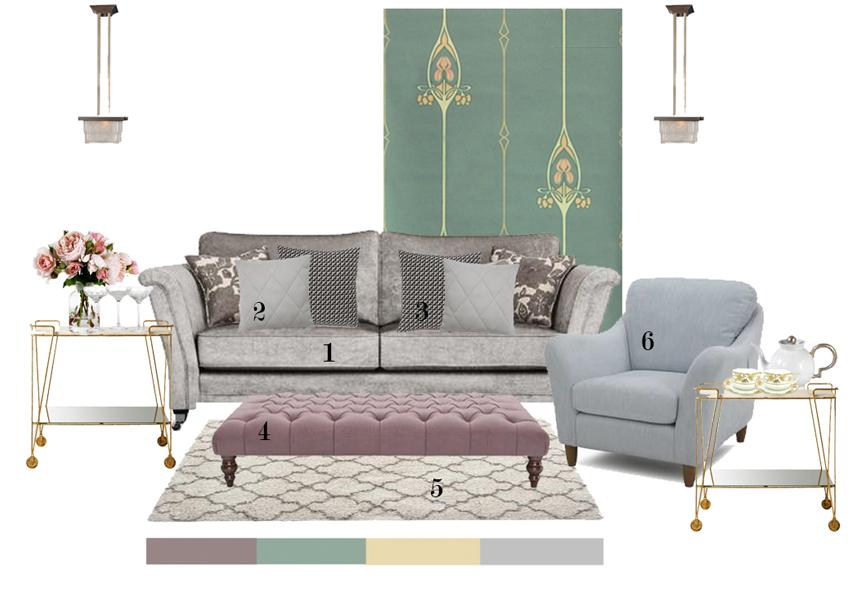 1. Hogarth sofa / 2. Guest cushion / 3. Quartz cushion / 4. Bailey footstool / 5. Lattice rug / 6. Warwick armchair / Lighting credit / Luxe trolley / Nouveau Iris wallpaper, Charles Rupert Designs
You will see from our moodboard that some of the products are influenced by this era but what really unites the look is our 1920's palette of dusky pink, gilded yellows, soft pastels and burnished browns, all colours reminiscent of this time. You tended to see a lot of blood reds and aqua but these are hard colours to use on a large scale and would be better used sparingly (perhaps with cushions, glassware or flowers).
Start by choosing your palette first, that way you have a strong visual guide when sourcing your items. Next begin with the largest piece of furniture, the sofa. Our Hogarth sofa is the centrepiece and although it only shows a few subtle period touches, our colour scheme pulls the look together. If you wanted to go all out with a 1920's living room then you could combine the Hogarth with a typical 1920's club chair. Or, for a club lounge look then I would recommend a club armchair. Our cushions feature large and small diamond patterns which mirror the shapes of this era as well as the patterns on our tea-trolley. We have chosen the Bailey footstool as it's the perfect shade of dusky pink, a colour that was widely used in this decade and is very on trend now. Another ottoman style that would work well is the Concerto in silver. Another key colour combination of the 1920's was gold and silver, great reflective materials for accessories and perfect for weaving throughout the larger pieces of furniture.
Floral patterns were also en-vogue during this time and would typically be seen on upholstered furniture, wallpaper, drapery and cushions. If you are partial to the more floral look then don't be afraid to layer up with different patterns, as long as you mix with plains and stick to a soft palette (like our one above) then you will be fine. Suggested accessories to really pinpoint this style would be; trays, glassware, china, mirrors and ornaments.